All about driving in Iceland
Renting a car in Iceland is pretty straight forward and the most common and convenient way to get around the island. Here is all you need to know about driving in Iceland.
2 wheel drive or 4 wheel drive?
We rented a 2 wheel drive (2wd). There were a few stretches of gravel road where the 2wd did slow us down. But none of these were on the ring road. For the most part, we thought that a 4 wheel drive (4wd) would have been an overkill for our purposes. It would have also been significantly more expensive.
If you do intend to venture into the mountain roads, known as F roads in Iceland, you will need an all-wheel-drive (where all the wheels are always engaged). Driving on F-roads with a 2wd will render your rental car insurance invalid.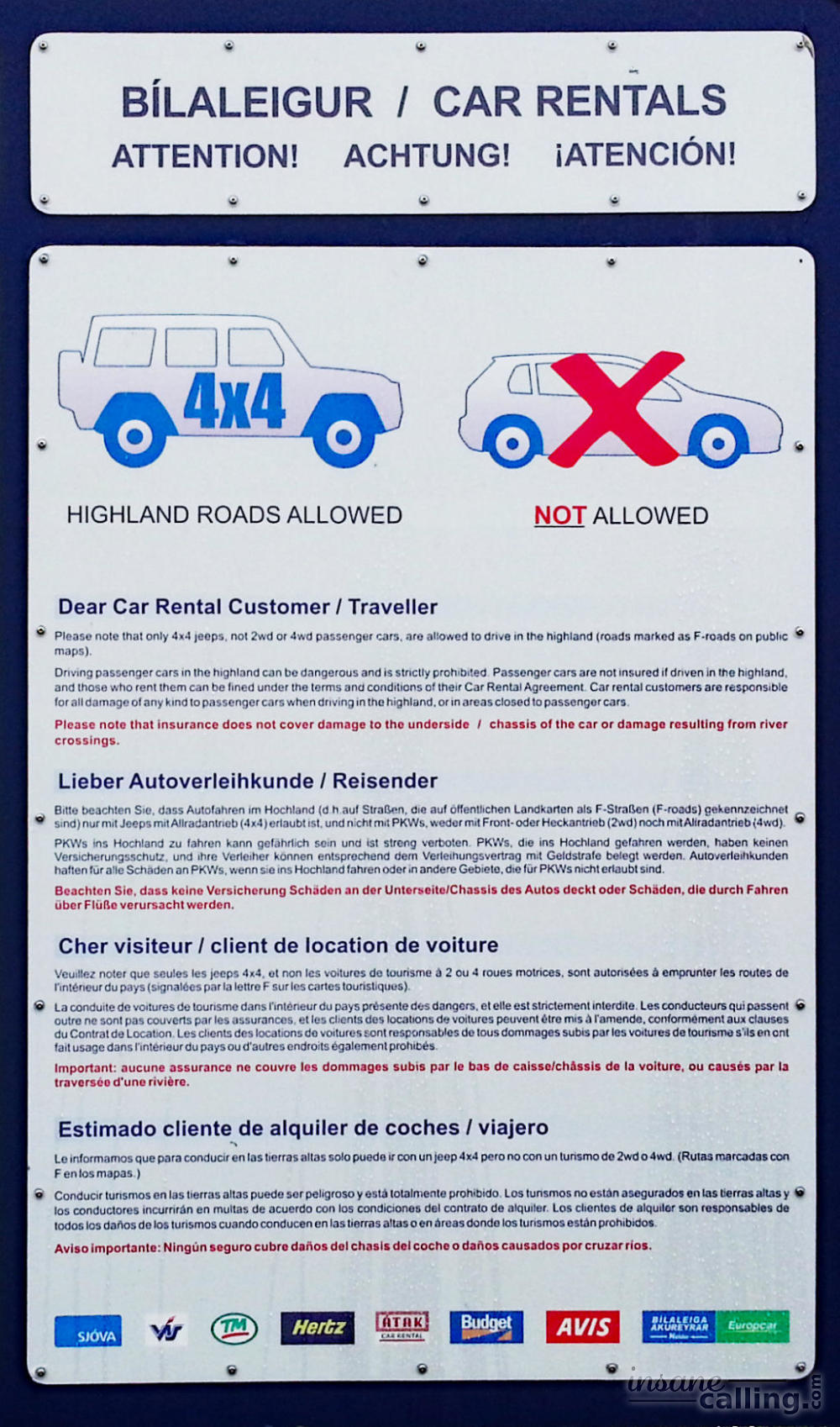 Car, van or caravan?
We rented a Citroën Cactus from Saga Travel (comes under the same umbrella as Thrifty and Dollar car rental). It broke down about 24 hours later after which they gave us a Ford Kombi which consumed more fuel but no doubt was bigger and better. We could flatten the back seats and spend a few nights in the car with sleeping bags.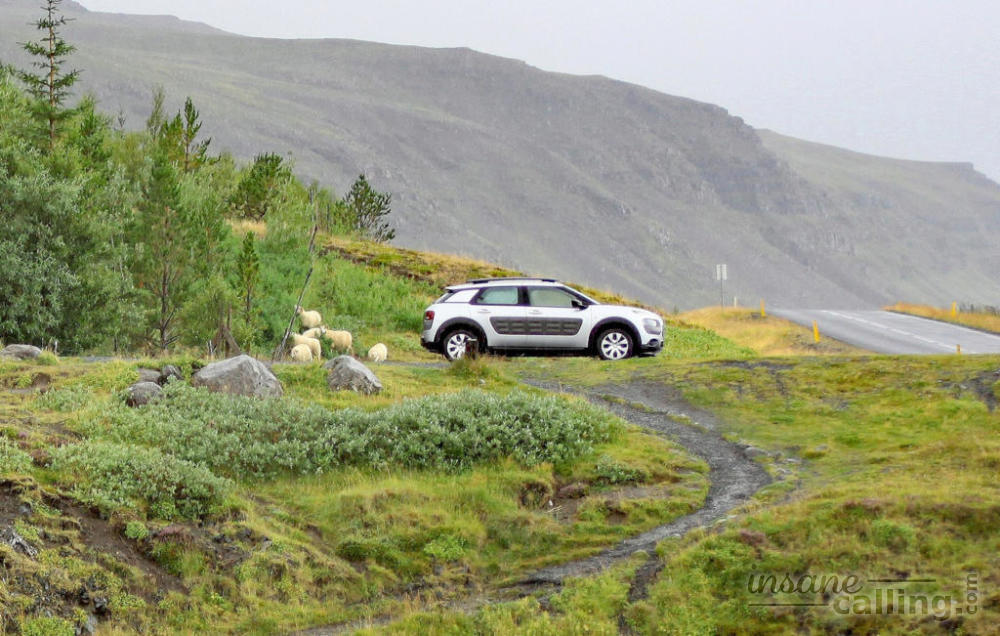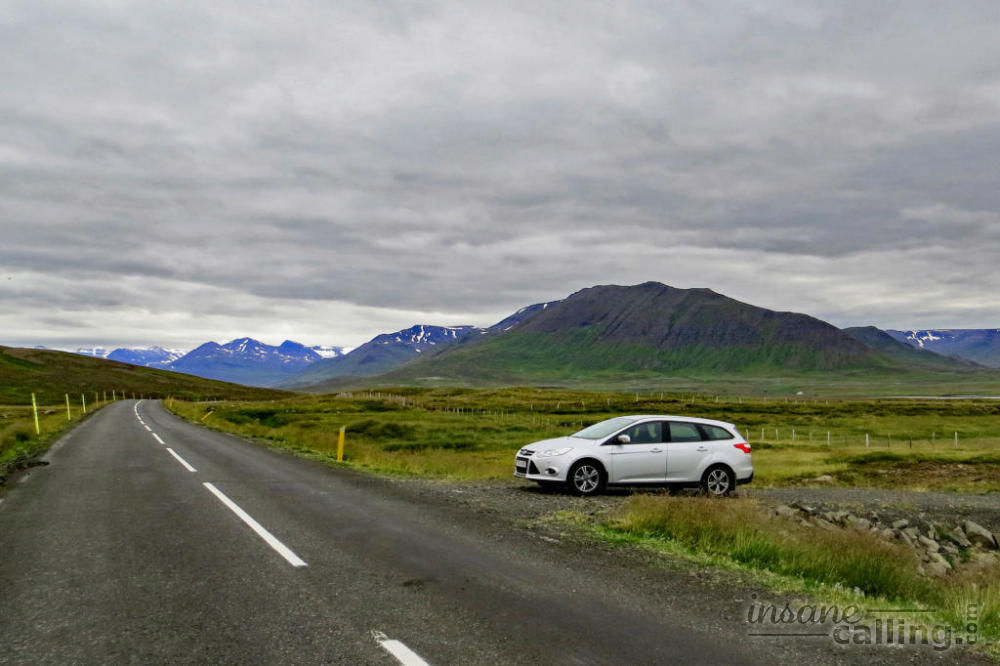 Many people rent vans or caravans where they can sleep. The basic models come without heating and toilet. Such vehicles can come in pretty handy because they allow you to park in campsites (without requiring a tent) and use the shower and kitchen facilities only. For most people, the decision of which vehicle to rent is completely a balance between cost, comfort and flexibility. It is unlikely to limit your area of travel.
Which rental car insurance is necessary?
Rental companies offer a plethora of insurances such as theft, gravel protection, sand storm protection etc. Theft insurance is unnecessary in Iceland. If you travel after mid-September, it might be useful to get an insurance for sandstorm protection. We did take the gravel protection and it gave us peace of mind when the Icelandic drivers speed past us in gravel roads.
Do I need GPS navigation for the Iceland ring road trip?
It is a road trip. You do not want to get on the nerves of your travel partner(s). So if you use GPS in your home country, get one here. Otherwise, it is manageable to navigate with paper maps. The roads are not that complicated in Iceland. We were planning to use google maps on a Siminn sim card. But the data connection can drive you nuts outside major towns and cities. We ended up using an offline GPS navigation app on our android devices. It served us well most of the times.
Pickup and drop off points for the rental car
All companies offer pickup and drop off at Reykjavík. For pick up in Reykjavík, the rental company will usually send a representative to your hotel. You will be then driven to the company's head office in the outskirts of Reykjavík, where you complete the formalities and get the car.
Some companies might charge extra for doing the same in Keflavik airport. The pickup and drop off point for rental cars in the airport is less than ten minutes walking distance from the airport. Some companies have 24 hours manned counters and others may have specific working hours such as 6 am to midnight. Check with your rental company on how they operate.
Parking in Iceland
It is free ! Yes, outside of the capital, parking everywhere is free. Parking is available for all tourist attractions and at plenty of picnic spots along the way. It is awesome.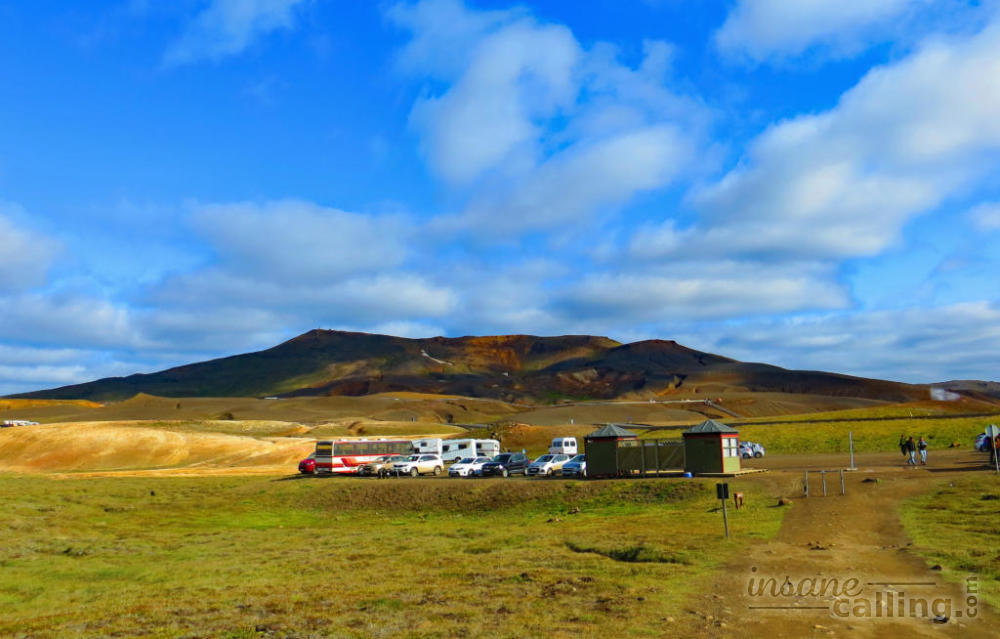 Filling up your rental car in Iceland
There are a few Icelandic gas station companies like N1, Olis, Okran. In faraway places or at non-peak hours, the petrol stations are not manned. You need a debit or credit card with a four digit password. The machines usually do not have English instructions. So it is best to fill up your car for the first time in a petrol pump where you have the option of staff helping you out. In general, it works something like this:
Insert your credit/debit card and remove it.
Enter the maximum amount of money you want to top up fuel for. The machine will only deduct the cost of the fuel you tanked up. The value you enter is only the upper limit. So if you have an empty 60 litres tank and want it full, entering 60 litres multiplied by the price per litre will give you the upper limit. When we went, the price of petrol was roughly 205 ISK/litre.
Enter the tanking station number where your car is parked.
Tank the car.
Insert your card again and print the receipt.
As you usually have to hand in your rental car fully tanked up, there are three tanking stations at the airport. The Okran gas station is behind the car rental return building. The other two are hidden behind the Avis return point. You can also top up fuel in Keflavík town.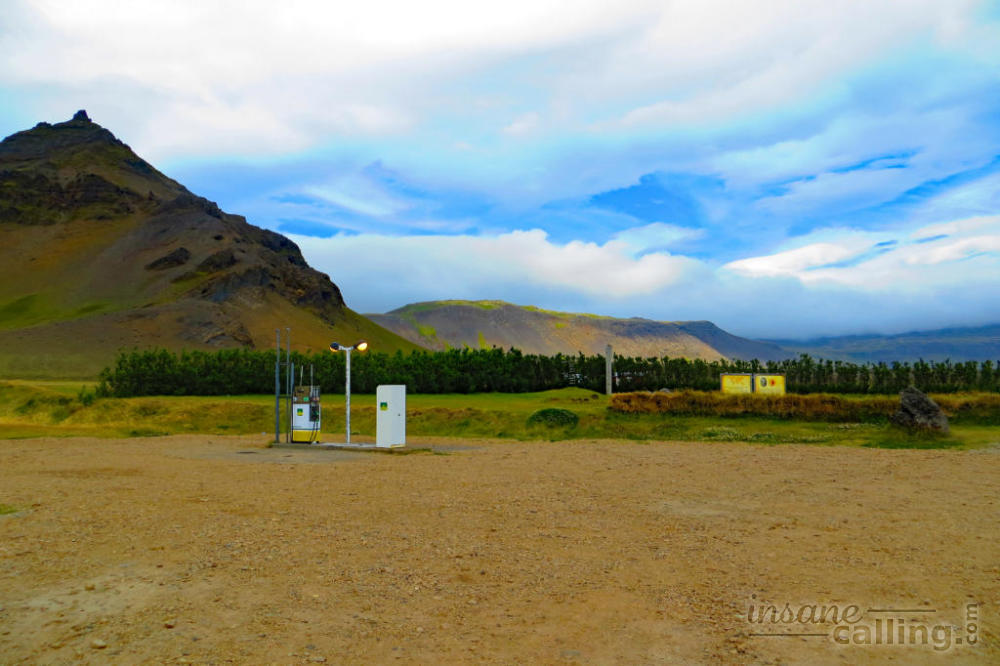 Speed limits on Icelandic roads
On the ring road, the speed limit is 90km/hour.
On unpaved roads, the speed limit is 80km/hour.
In towns and villages, the speed limit is 50km/hour.
There are special speeds marked when there is construction work going on.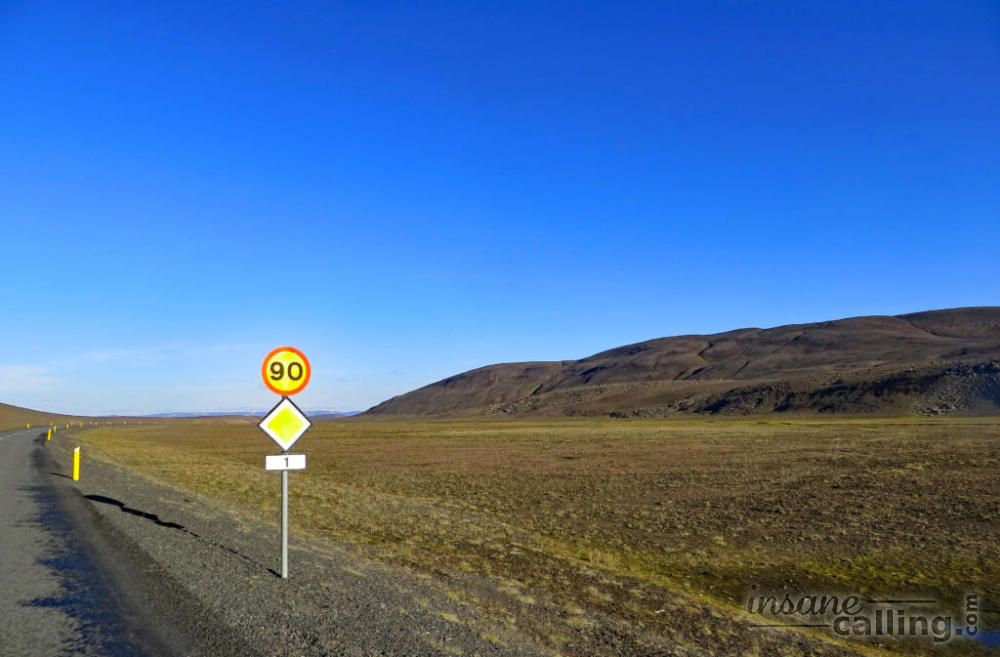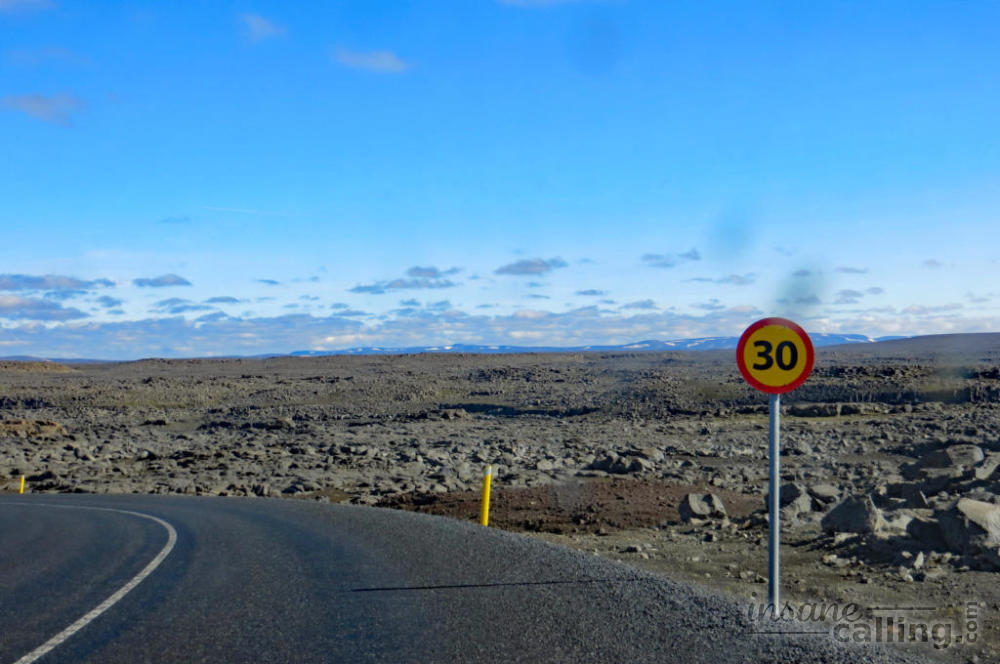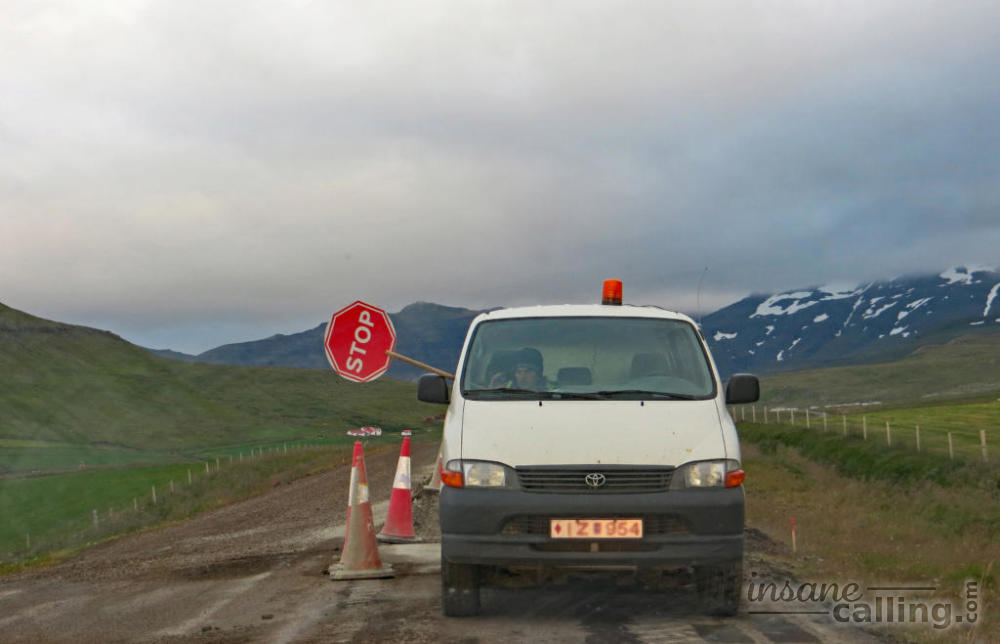 Animals on the roads
There are barely any traffic lights to consider once you are out of the major cities. But you do have to keep your eyes open for a plethora of animal and bird life crossing the roads such as sheep, swans, ducks, reindeer, horses, horse riders and low flying birds.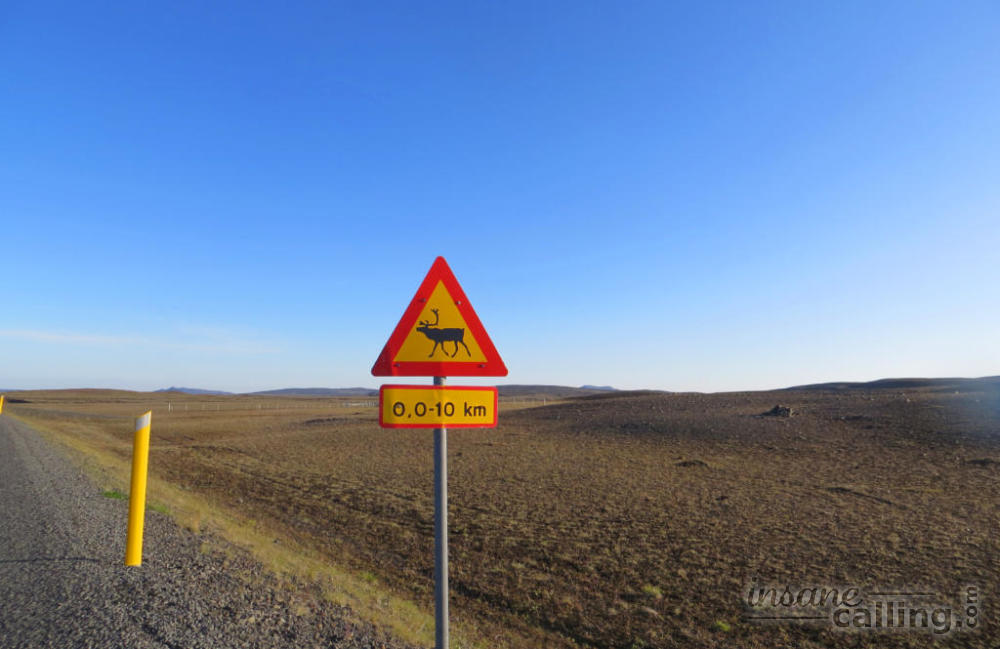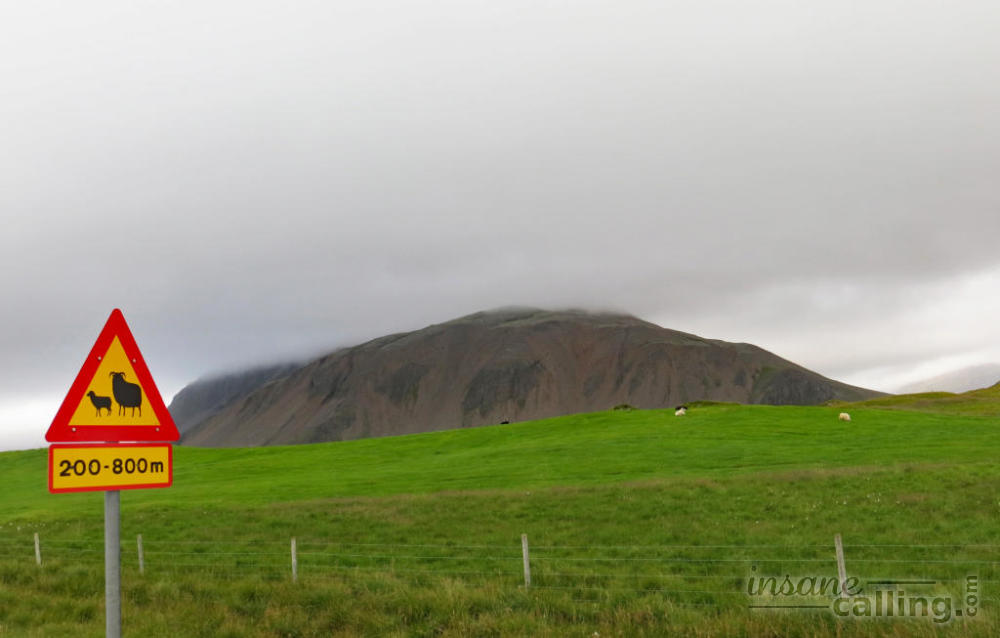 We had to be extra careful around fulmars, birds resembling seagulls, which can be seen around the Vík and Dyrhólaey area in the south. The fulmars nest in the rocky seaside cliffs. The young fulmars, while still learning to fly, sit on rivers expecting to be carried towards the sea and nearer to their nests. But unfortunately they mistake the roads as rivers and sit there helplessly for hours. So, drive cautiously around them.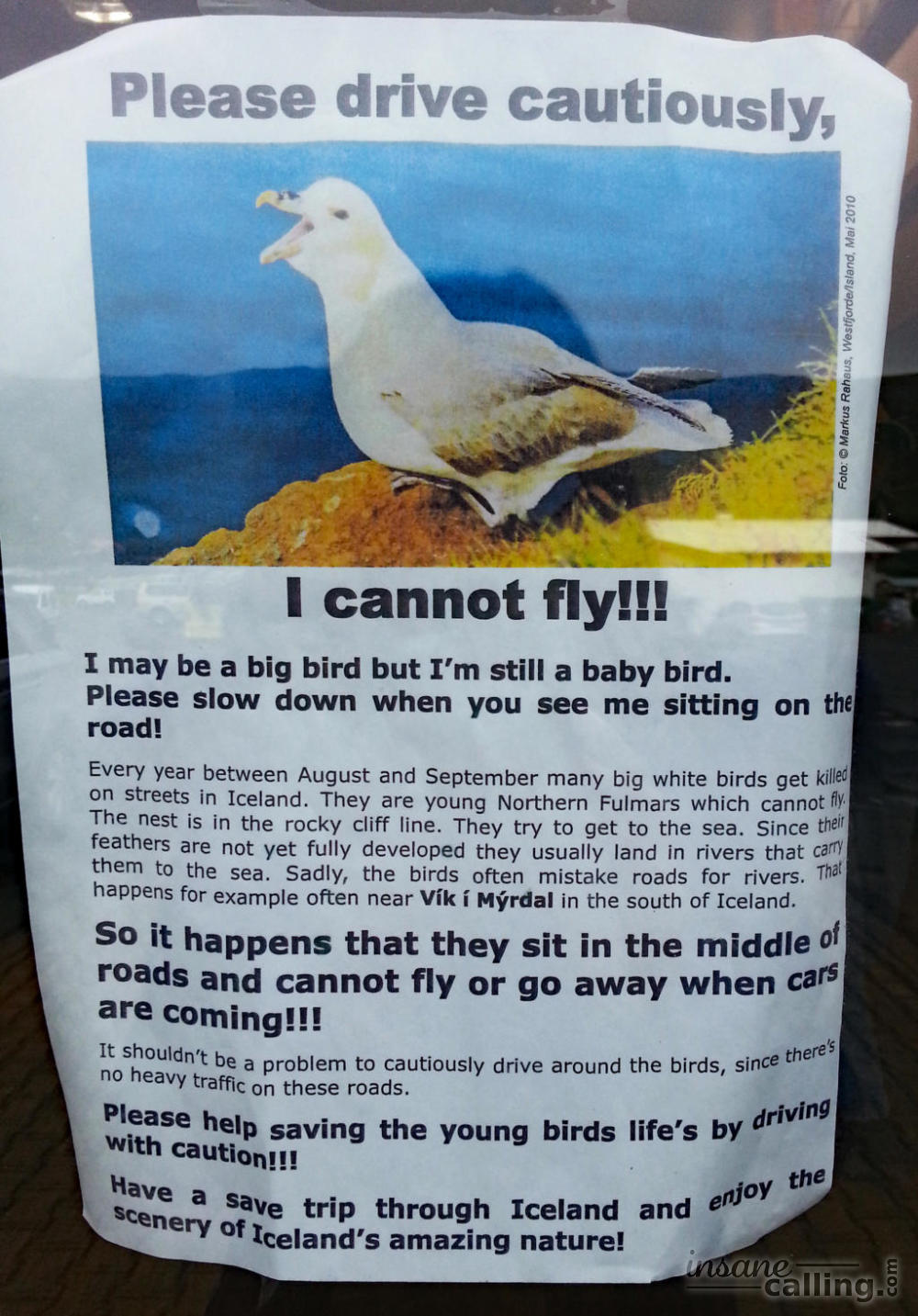 Weather and driving
In summer, weather may not seem disruptive to driving in most parts of the world. But the same cannot be said for Iceland. Parts of Iceland such as Snæfellsnes and the south (around Jökulsárlón) are extremely windy. Even our driving maps had wind signs on certain road stretches. Nothing could have prepared us for the magnitude of winds we faced. Nothing!! Full concentration and a very strong hand on the steering wheel was an absolute must.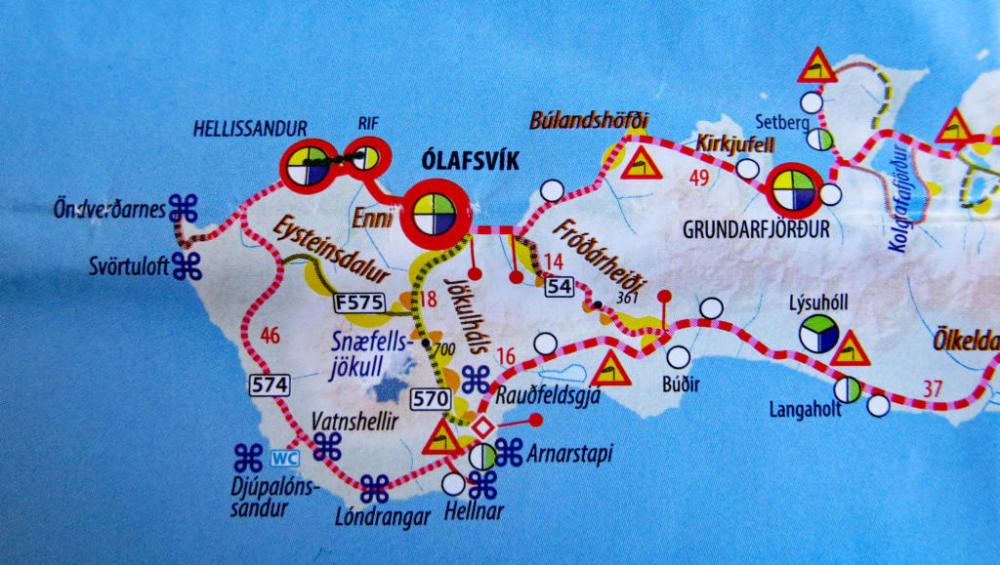 Rains and mudslide can also cause certain stretches of the roads to be closed. This happened to us when we headed to the Tröllaskagi peninsula. So it helps to check en.vedur.is and road.is sites before you set out each day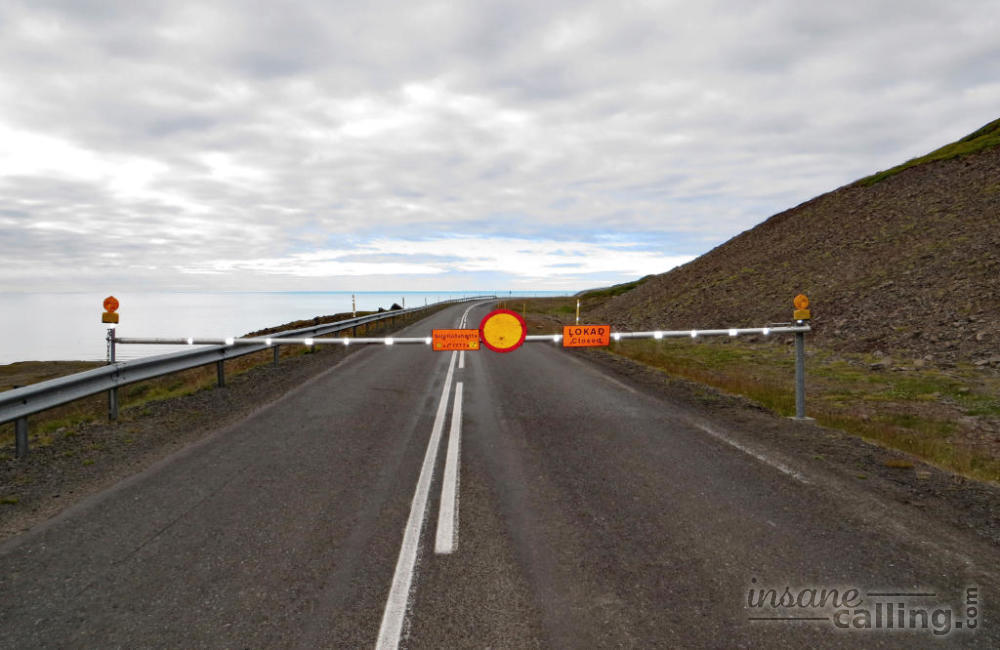 Places of interest and picnic spots
Once you are out of Reykjavík, they are no major highways and getting in and out of the ring road is easy. A special symbol, known as a looped square (⌘) marks places of interest. Some of these places are prime attractions while others are barely noticeable and hard to spot even if you stand right in front of them.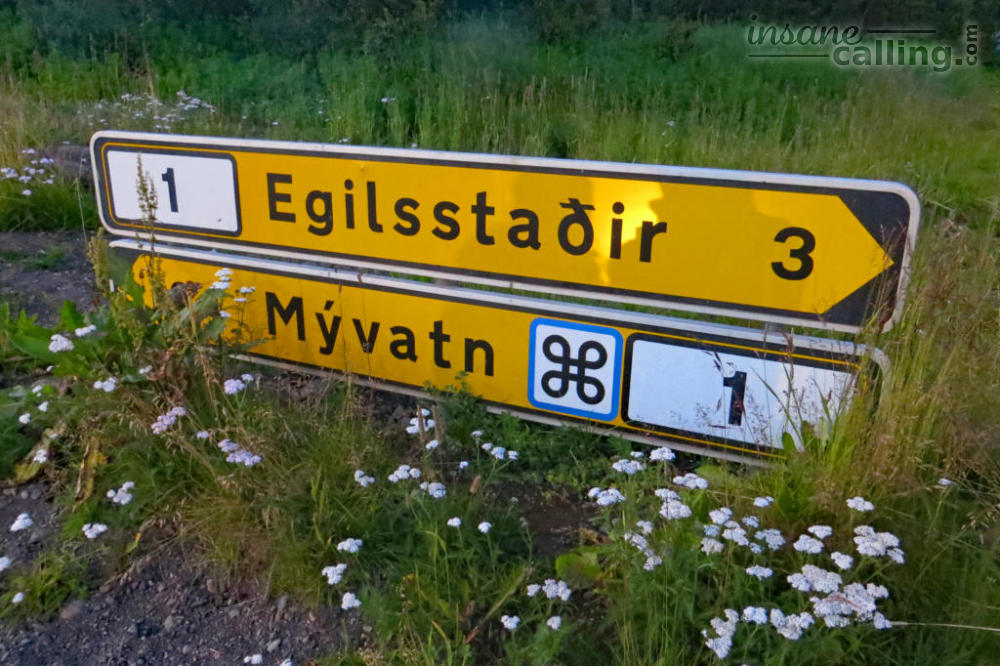 Other than that driving in Iceland is fairly easy. There is little traffic to cause you panic when you are unsure. There are plenty of picnic spots to stop. These picnic spots have maps and information of the area or view in front of you because the government is pretty well prepared for tourists wanting to stop at picturesque spots every couple of meters.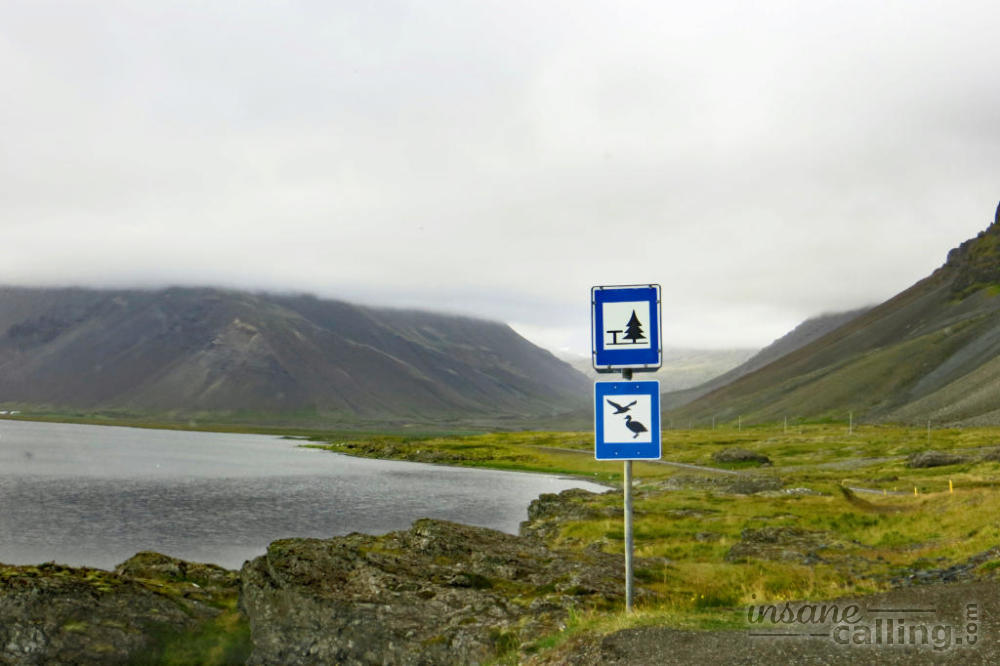 Cairns
Cairns are heaps of stones which used to act as road markers before the time of signboards. They still run parallel to many of Iceland's roads today.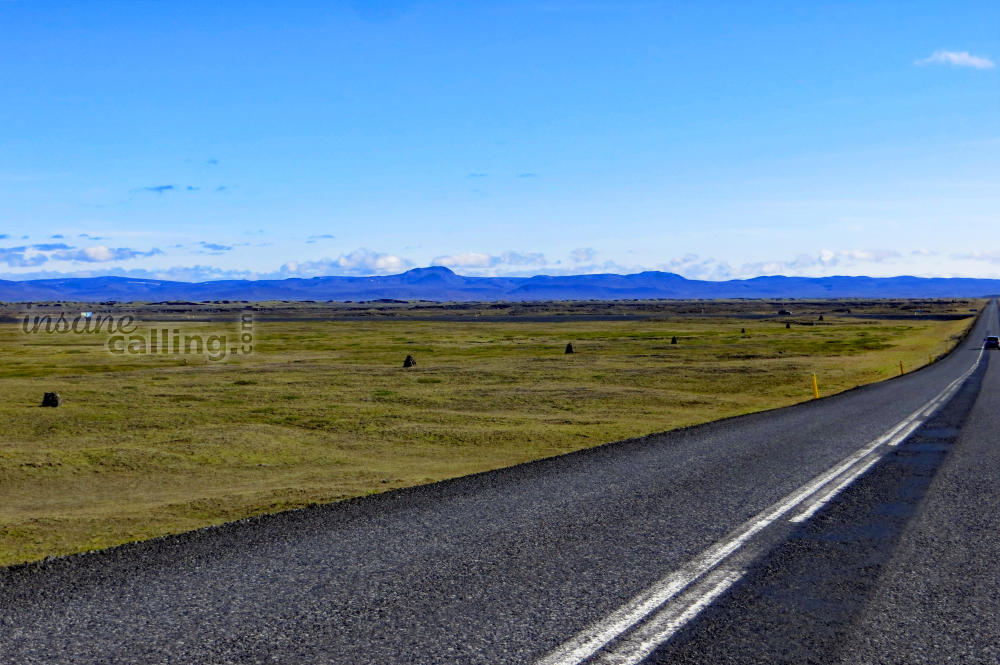 Find out more about Iceland: