5 cost saving tips for your Iceland road trip
Let's face it. A two week holiday to any first world country in the world will be expensive. The average visitor to Iceland spends about 158,900 ISK (~1120 Euros) in his trip excluding flights and ferries. That is despite the fact that almost all places of interest are free to enter.
Here are a few tips that saved us some money and kept us under that average.
# Quick tip: To convert Icelandic Krona (ISK) to a reasonable figure quickly, divide by 100. This got us close to an Aussie or Singaporean dollar to which we could instantly relate.
Camp. Or rent a car/caravan in which you can sleep. If camping is not your thing, bring sleeping bags so you can sleep in basic "sleeping bag accommodation". Accommodation and car rental are your biggest two expenses. Why not combine the two and save some money.
If you are going on the ring road and wish to go on tours, do them closer to their starting point. For example, if there is a glacier tour in Skaftafell national park, it is cheaper to start it at Skaftafell than from Reykjavík. Our tour to the highlands was cheaper from Myvatn than from Akureyri. This also of course saves you travel time.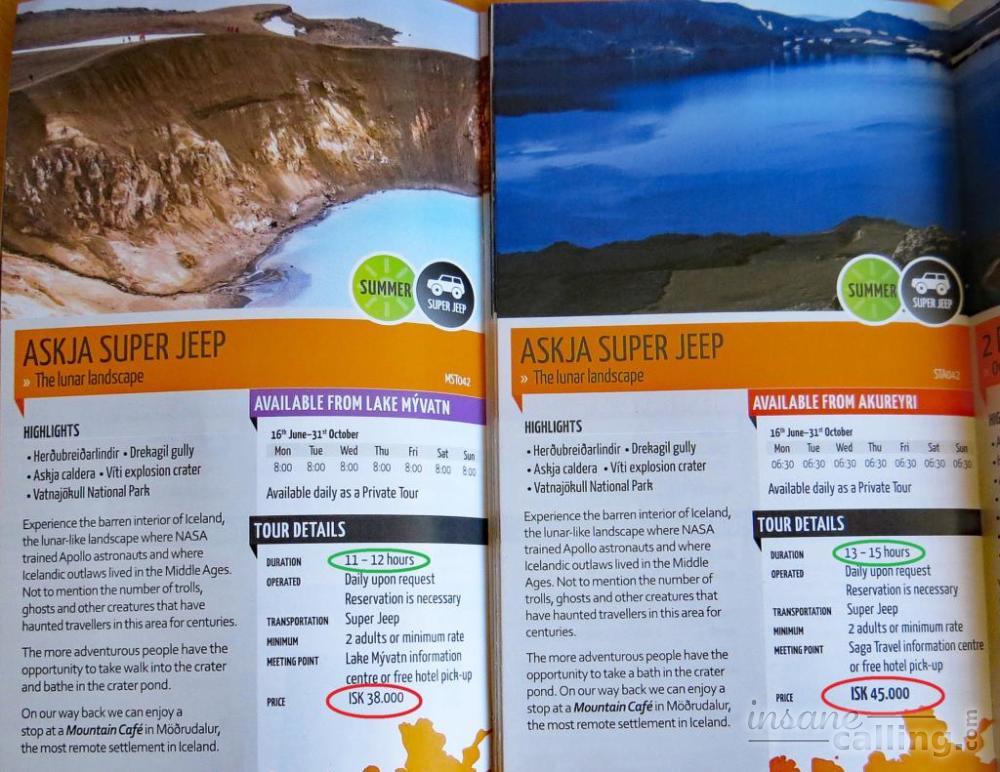 Cook. We took some kitchen essentials including travel size portions of our favourite spices for basic cooking and made almost all our meals. We bought fresh produce from the local supermarkets regularly and cooked in the kitchens that are common in most accommodation in Iceland. For lunch, when cooking was not an option, we assembled some ingredients with bread and called it a sandwich.
Instead of buying, rent camping gear from shops such as Iceland Camping Equipment. When we went, it was cheaper to rent a GPS navigator from them than from our car rental company. They also rent camping gear.
Check for discounts. For example, at the time we travelled, the Myvatn Nature Baths tickets were 10% cheaper if you purchased them in the Reykjahlíð tourist information center. On the contrary, the Askja and Holuhraun super jeep tour was 5% cheaper if you booked it online instead of booking in the Reykjahlíð tourist information center.
Find out more about Iceland: