Accommodation in Iceland
We planned our trip pretty last minute. We didn't want to be bound by booked accommodation at various points because we like the freedom of spending a little extra time in a place we like and skip a place we like less. Apart from our first and last night, we booked every night's accommodation the day before or more often, a couple of hours before or not at all. Sometimes we got lucky and other times we compromised with what we got.
Types of accommodation in Iceland
There are various types of accommodation in Iceland. There are the standard slew of hotels, bed and breakfasts, apartments and even Airbnb. There are also guesthouses which offer a kitchen that you could share with other guests. And then there are a few varieties of accommodation specific to Iceland.
Campsites: Campsites are the most common and cheapest accommodation you will find in Iceland. They are marked well with sign posts and therefore easy to find and each town has at least one.
The most basic campsites have no reception. Instead the camp warden comes only in the night to collect money. There are unheated toilets and showers with cold water. This is the true back-to-the basics style of camping (without going to the wild that is).
The other end of campsites come with a fully equipped shared kitchens (toasters, non stick pans, plates, knives etc), heated lounging area with charging points and wifi, floor heated bathrooms and toilets and 24 hour reception to buy basic supplies.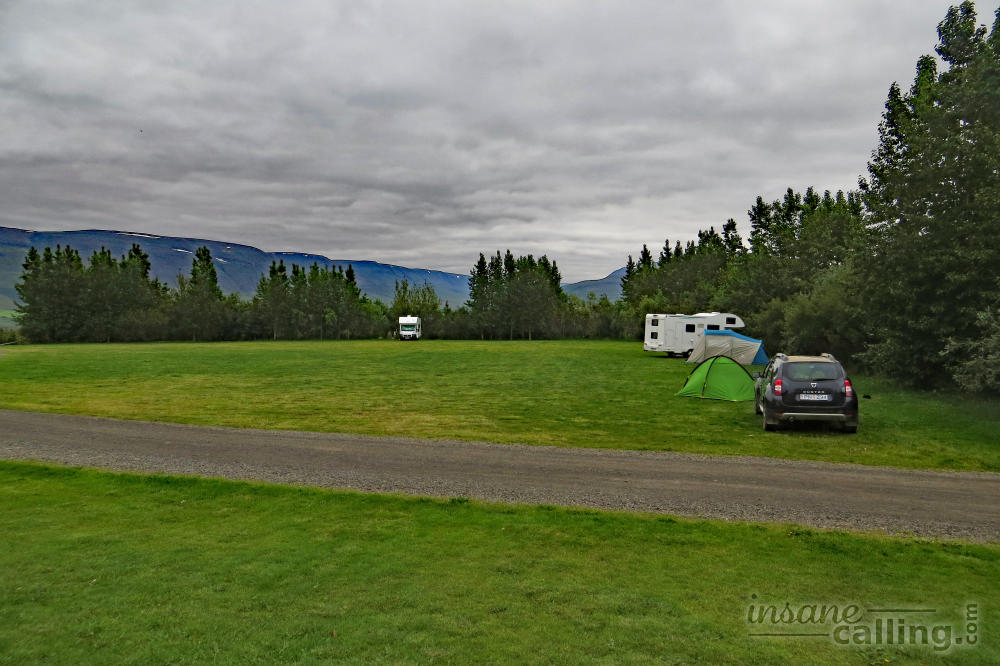 Campsites range from 1000 ISK to 1500 ISK (Icelandic Krona). There can be additional charges for using electricity to charge your devices and even for showers. It totally depends on the campsite. You can park your car and sleep in the car or pitch a tent. Costs are the same regardless of car and tent size. There are also facilities for caravans to empty their sewage tanks.
When we went (end August to early September), there were not that many campers who pitched tents. It was pretty cold and windy in most places, especially at night. There were certainly more people who slept in the vehicles.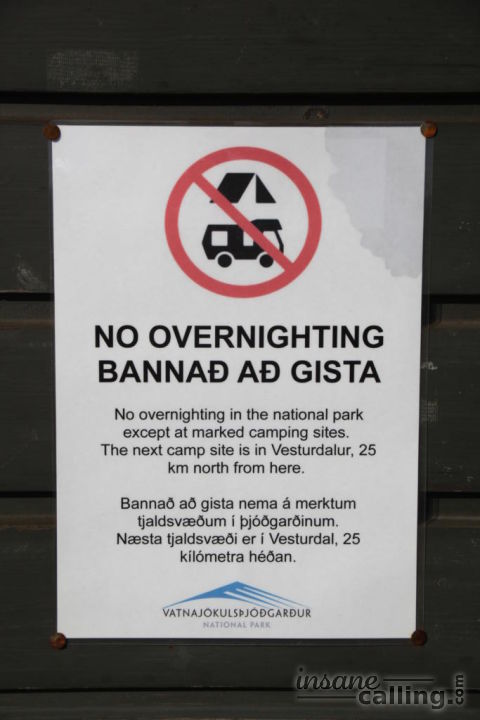 Sleeping bag accommodation: Typical youth hostels (some are part of Hostelling International) with dorm rooms and shared bathrooms and kitchens. But as the name implies, you take your sleeping bag. They provide a bare mattress and if you are lucky, a pillow. There are no bed sheets, blankets etc.
Often, these hostels have two beds (normal or bunk beds) in a room. So if you are two, the room becomes private so to say. The biggest advantage of sleeping bag accommodation over campsites is that you get a heated room. The Icelandic weather can make you crave for warmth so much that even if you came with the will of camping only, occasionally you will have to loosen your purse strings and go for sleeping bag accommodation.
Icelandic farm holidays: This is an Icelandic website which has a collection of accommodation in private farms. Once you are out of Reykjavík, most people depend on fishing and farming. So farmhouses are pretty much the only type of housing you will see for miles. The quality and interaction with the locals depends totally on the hosts. Some might offer a cosy little cottage or you might get a separate holiday house. Some family farms also provide traditional meals at extra cost.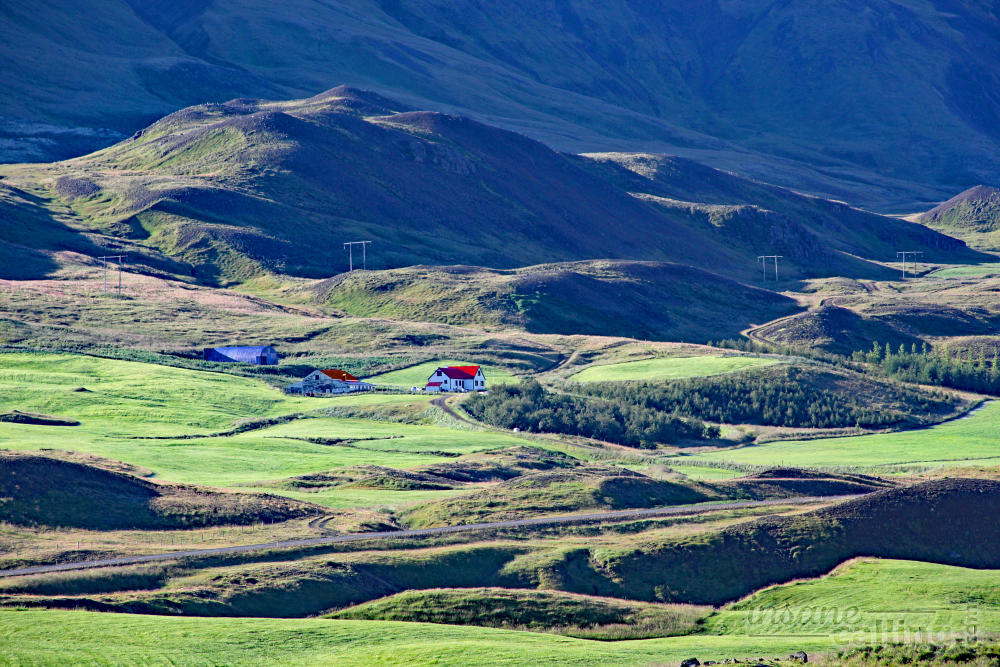 Many farmers also provide sleeping bag accommodation and campsites. So you get all varieties of accommodation in the same place and can pick the one that suits your budget.
Was it easy to find last minute accommodation in Iceland, you may ask?
It was relatively easy perhaps because we went towards the end of the peak season. When we had an idea where we would end up by the end of the day, we searched for accommodation in that town using the various apps. But we have to admit what helped immensely was that we were flexible, had our tents with us (even though we used it only once) and we had a big enough car to sleep in it. That took the pressure off. There were one or two nights when the weather was so bad that we wished for a dry and warm place (where we could also charge our devices) but when we couldn't find one, we compromised.
Do note that a lot of guesthouses in remote areas do not have 24 hour receptions. So inform them ahead if you are arriving late.
Where we stayed
We got a taste of a variety of Icelandic accommodation types and here are our quick reviews for each one with the listed price. To convert Icelandic Krona to a reasonable figure quickly, divide by 100. This got us close to an Aussie or Singaporean dollar to which we could instantly relate.
Night 1: Hotel Ódinsvé in Reykjavík
This is a conveniently located boutique hotel in the centre of Reykjavík. Rooms are small but decent. Nice but overpriced.
250 EUR/room/night
Night 2: Bjarteyjarsandur Campsite near Glymur waterfall
This is a lovely place in Hvalfjörður just off the main road when you drive from Glymur towards Akranes. They have cottages with sleeping bag accommodation and a campsite. This was our cheapest and favourite campsite. It had just about everything campers need – a huge lounging area with good wifi, well equipped kitchen, clean bathroom with floor heating (heavenly!) and most importantly, a friendly ambience. The family's own cats and dogs were running around and there were a couple of German and Swiss farm girls for pleasant conversation. The views of the Hvalfjörður were just amazing.
We spent the night in our car by reclining the front seats to make them like business class flight seats and slept in our sleeping bags. It worked to a fair extent.
1000 ISK/person/night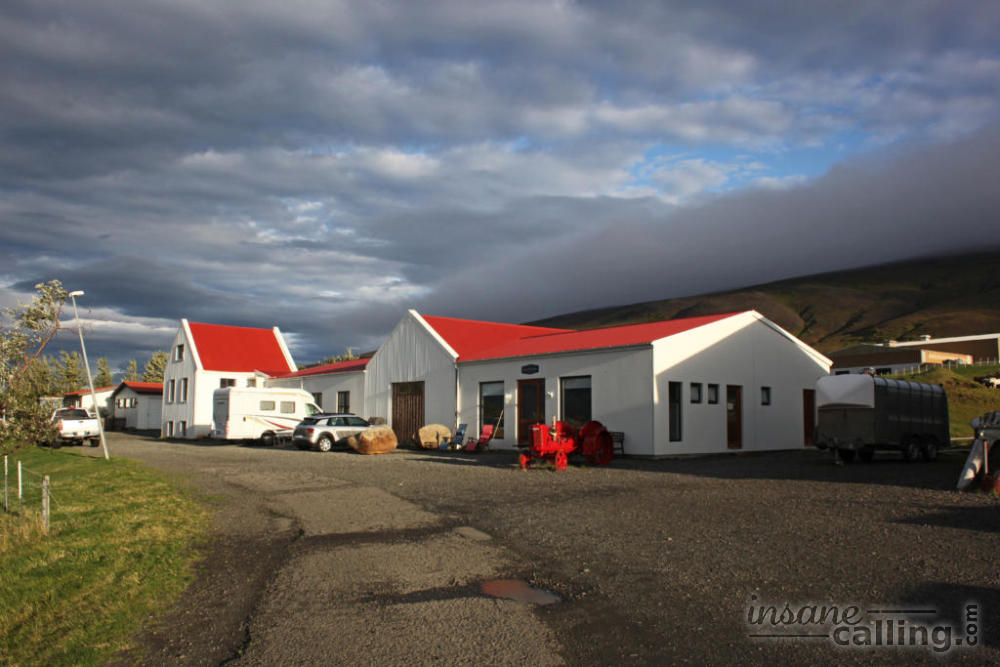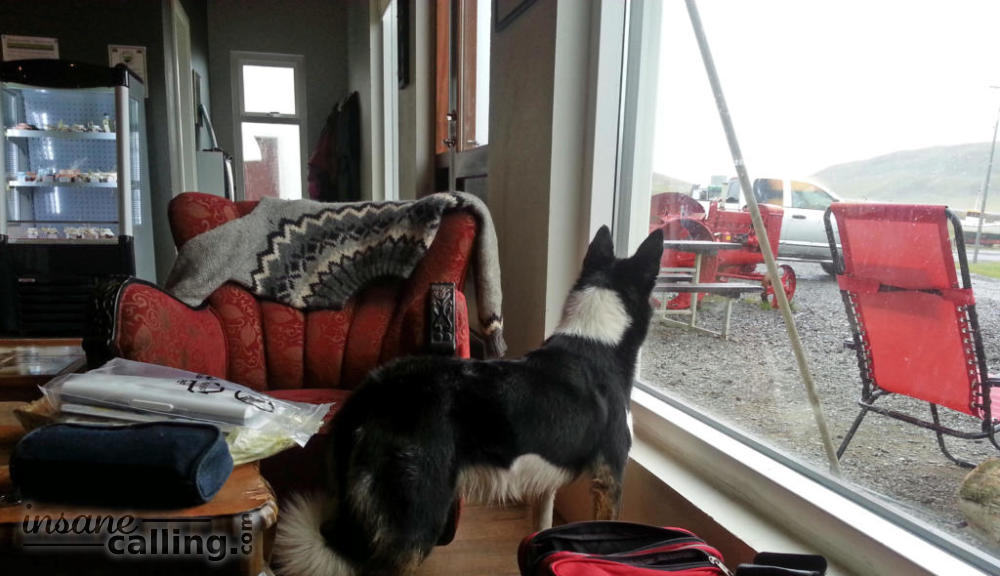 Night 3: Snorrastaðir sleeping bag accommodation near Borgarnes
We saw this on our map first and asked for availability when we reached there. It was an extremely cold and windy day and we just wanted a warm place. It is located on the 54 just before you turn west to enter the Snæfellsnes peninsula. The farm has cottages (as part of Icelandic farm holidays), sleeping bag accommodation and a campsite.
We chose the sleeping bag accommodation to strike a balance between price and comfort. This was one of our least favourite places simply because there was no personal touch from the family owning this place. The family lives a couple of hundred meters away from the cottages and the building with sleeping bag accommodation. When asked to see the room, you essentially get handed over the key with a room number. No further information. No exchange of words. No showing around the facilities. The wifi connection was bad and the bathroom drains were clogged up. We did however love the location being so close to the Eldborg crater.
4500 ISK/person/night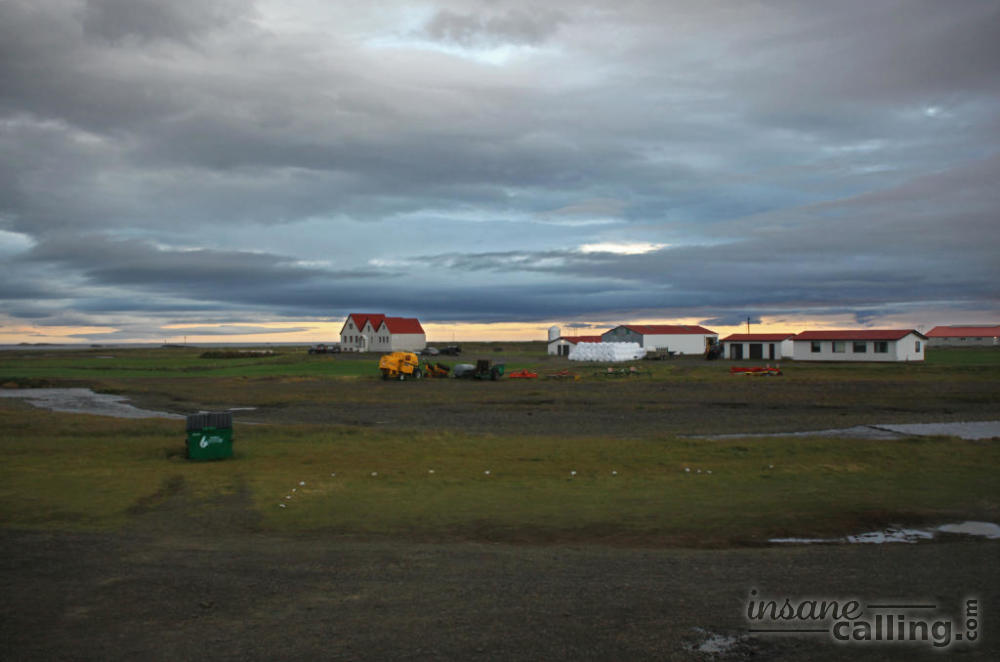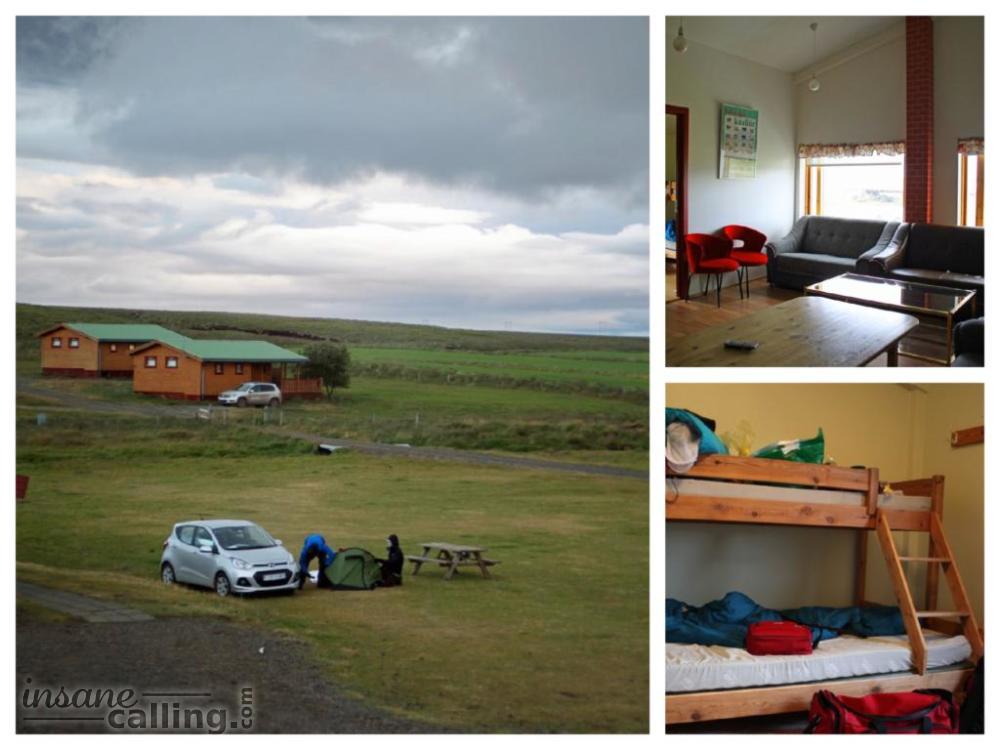 Night 4: Grundarfjörður Hostel in Grundarfjörður, Snæfellsnes Peninsula
Here we had a room with bunk beds. The hostel has a shared bathroom and a shared kitchen. We were lucky to have found a vacant room without advance booking because it seemed pretty full. It also meant we had to manage our time well by waking up early to use the bathroom before the rest.
10500 ISK/2 people/night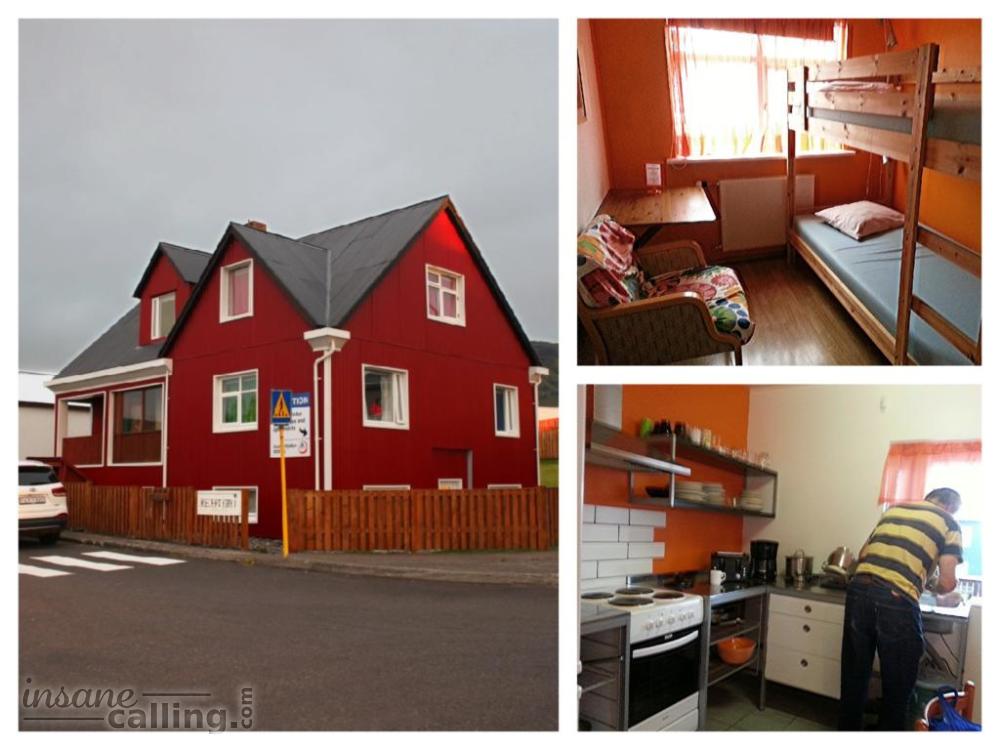 Night 5: Auðnir Bed and Breakfast in Öxnadalur Valley near Akureyri
This was one of our favourite accommodation in the whole trip. It is a farmhouse located in the stunning Oxnadalur valley on the ring road near Akureyri. We happened to see the signboard on the side of the road just as it was getting dark. We showed up, asked for the price and settled in.
It is essentially a house with three bedrooms (each with two single beds), a kitchen and a bathroom to share. You do not have to rent the whole house. You can rent just a room. But the night we were there, none of the other rooms were taken. So we essentially had the house to ourselves. We loved everything about it. The effort Sigi, the hostess, took was visible in the little touches from the artwork to the collection of handy brochures. We highly recommend this place. Sigi does prefer bookings via AirBnb.
45 EUR/person/night (includes breakfast – we got a reduced price for not having breakfast).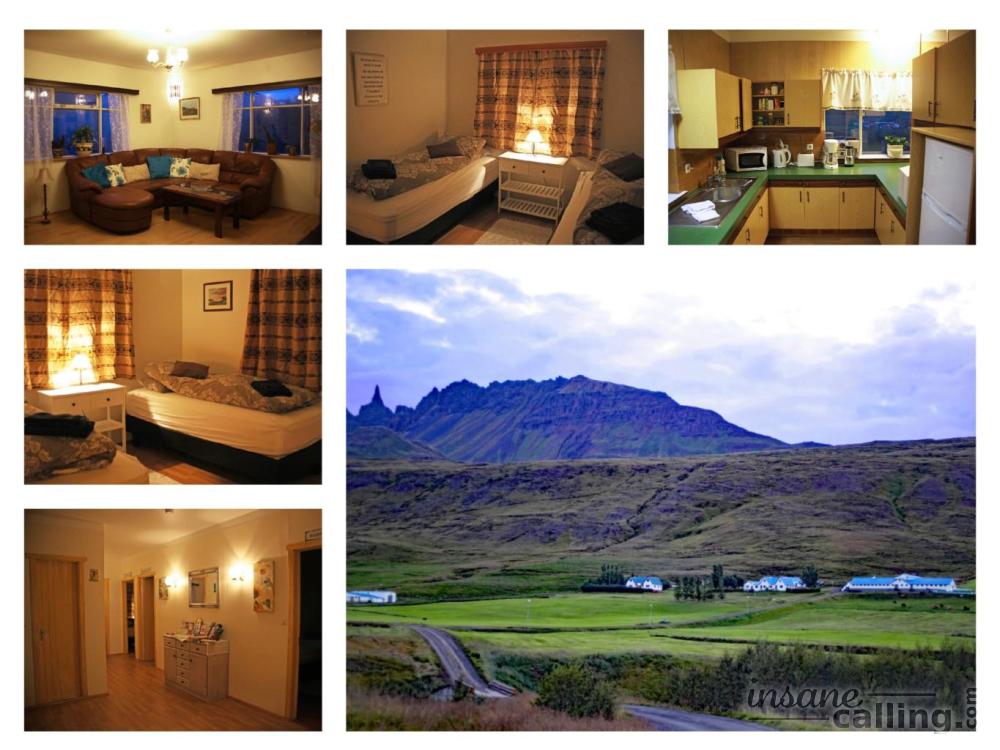 Night 6: Hamrar campsite in Akureyri
This is the biggest campsite in Akureyri. It has a shared kitchen. No Wifi. The bathrooms are heated. Since we went in low season, the campsite was not full and very clean. We pitched a tent here. It did get very cold in the night despite two layers of pants, two layers of socks and fleece jackets.
1300 ISK/person/night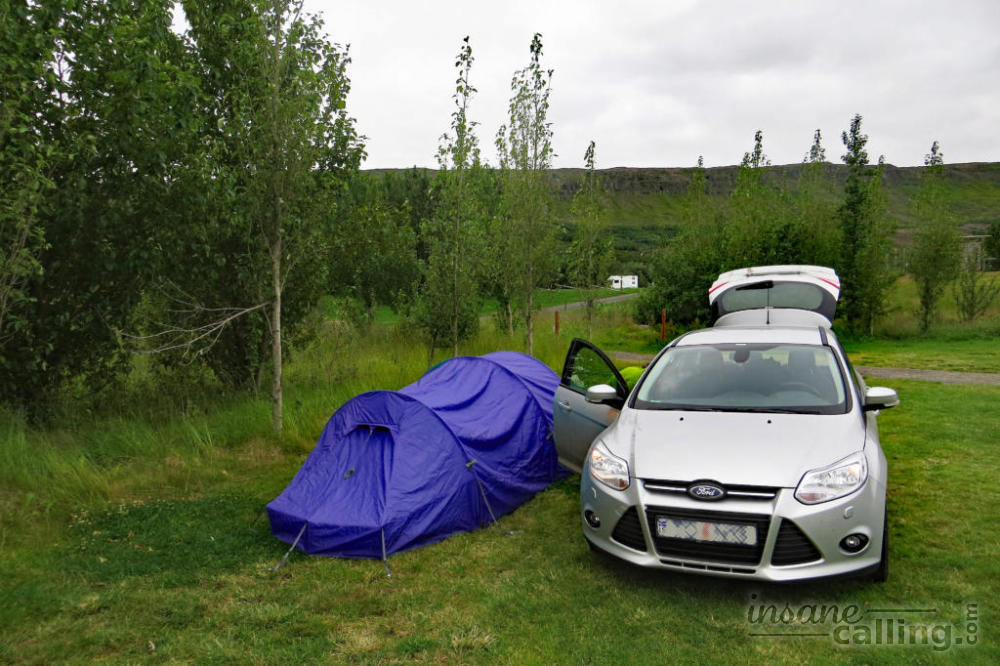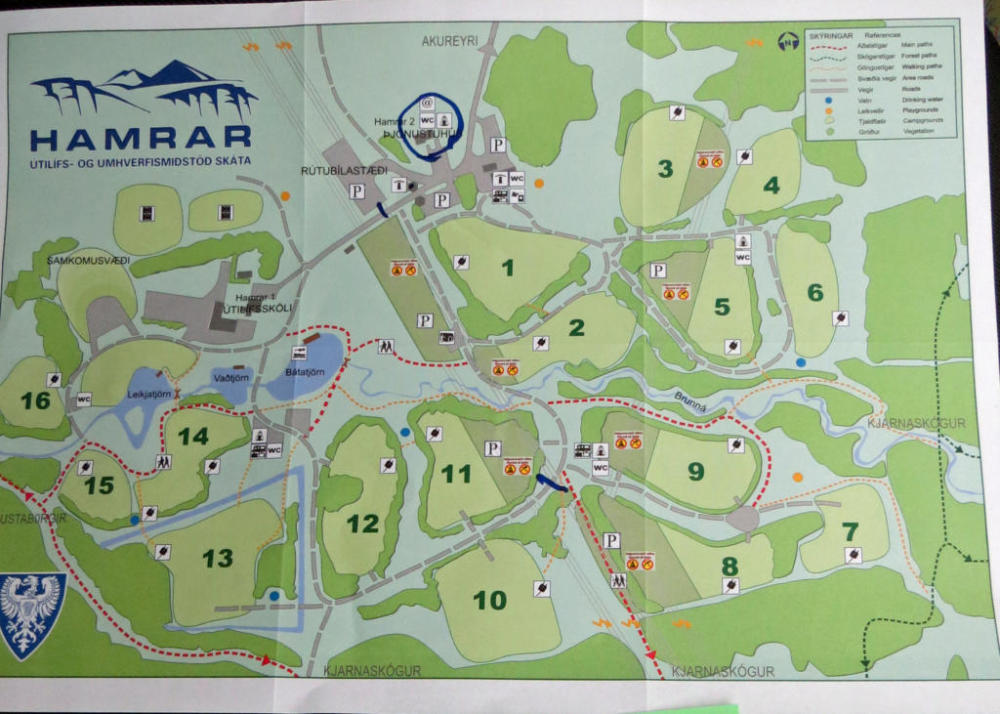 Night 7 and 8: Vogar Campsite in Reykjahlíð, Myvatn area
We were a little disappointed with this campsite because the shared kitchen is only available for people in their sleeping bag accommodation and not for campers. Instead, campers could use a tent with some basic tables and chairs for eating. I think our disappointment can be blamed on the fact that we were too spoilt with the other campsites in Iceland being so well equipped. We slept in the car by flattening the back seats. We had some good insulation mats and wore multiple layers. Opening the windows a teeny bit in the night helped in minimizing the condensation in the car. After two nights, we were experts in sleeping-in-the-car thing. The comfort level was comparable to that of sleeping in a tent.
1500 ISK/person/night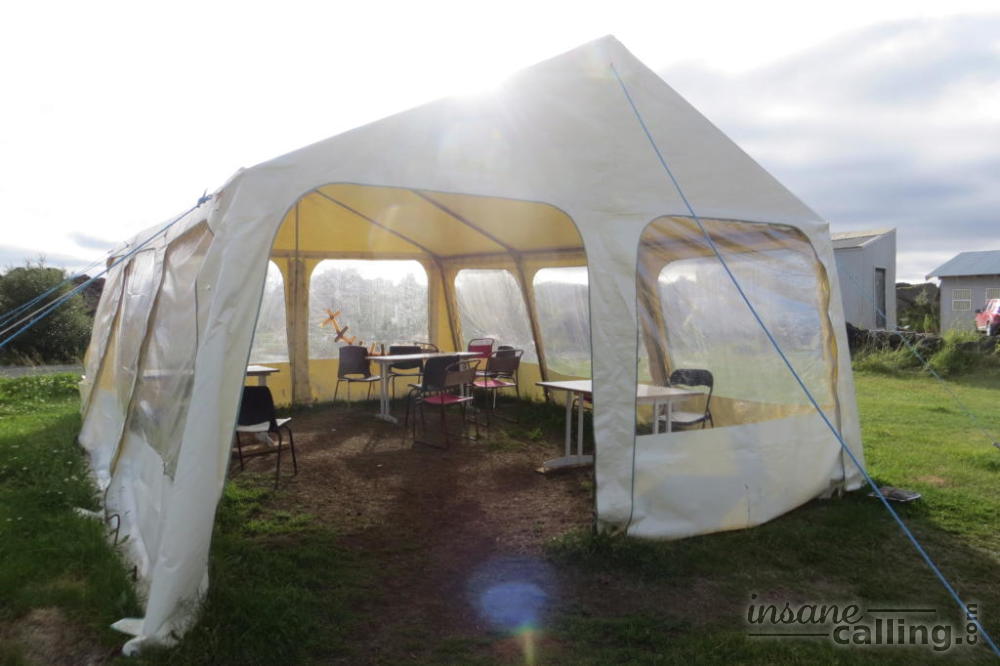 Night 9 and 10: Skipalækur sleeping bag accommodation near Egilsstaðir
After three consecutive nights in campsites, we craved for the warmth and our cameras needed charged batteries. We showed up at Skipalækur Guesthouse located 3 km from Egilsstaðir and decided to stay in the sleeping bag accommodation. They have cottages and a campsite too. The sleeping bag accommodation had two toilets, one bathroom and one kitchen to be shared with 8 people. Had it been at full capacity, it would be been cramped. But when we were there, it was not an issue.
90,000 ISK/2 persons/night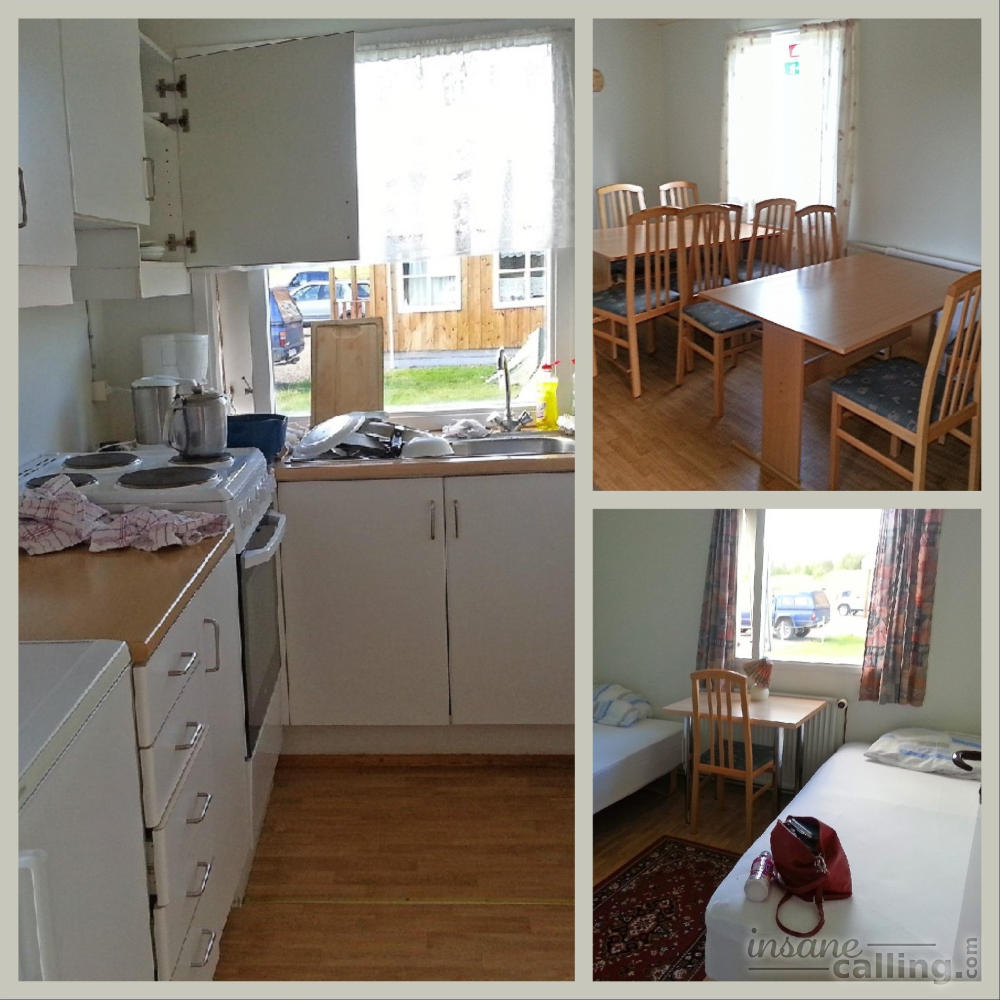 Night 11: Svinafell campsite near Skaftafel visitor center
We did not utilize the campsite much except for using their shower facilities. The water was barely warm. Gorgeous farmland surrounds the campsite.
1500 ISK/person/night
Night 12: Kirkjubær II campsite in Kirkjubæjarklaustur
This is a well-run campsite. It was the first site in which we had to pay extra price for use of hot shower. Hot water is available for a limited number of minutes and when the time is up, water supply stops. You do not even get cold water after that time unless you feed the coin machine again. We were not informed earlier about the cost of showers and didn't have the right coins. Fellow campers helped us with some loose change. The camp has a shared kitchen. It was one of the first campsite kitchens without plates and spoons. It was nice to use the gas-cylinder powered stove and cook with real fire though.
1200 ISK/person/night + 300 ISK/5 minutes of hot water for the shower.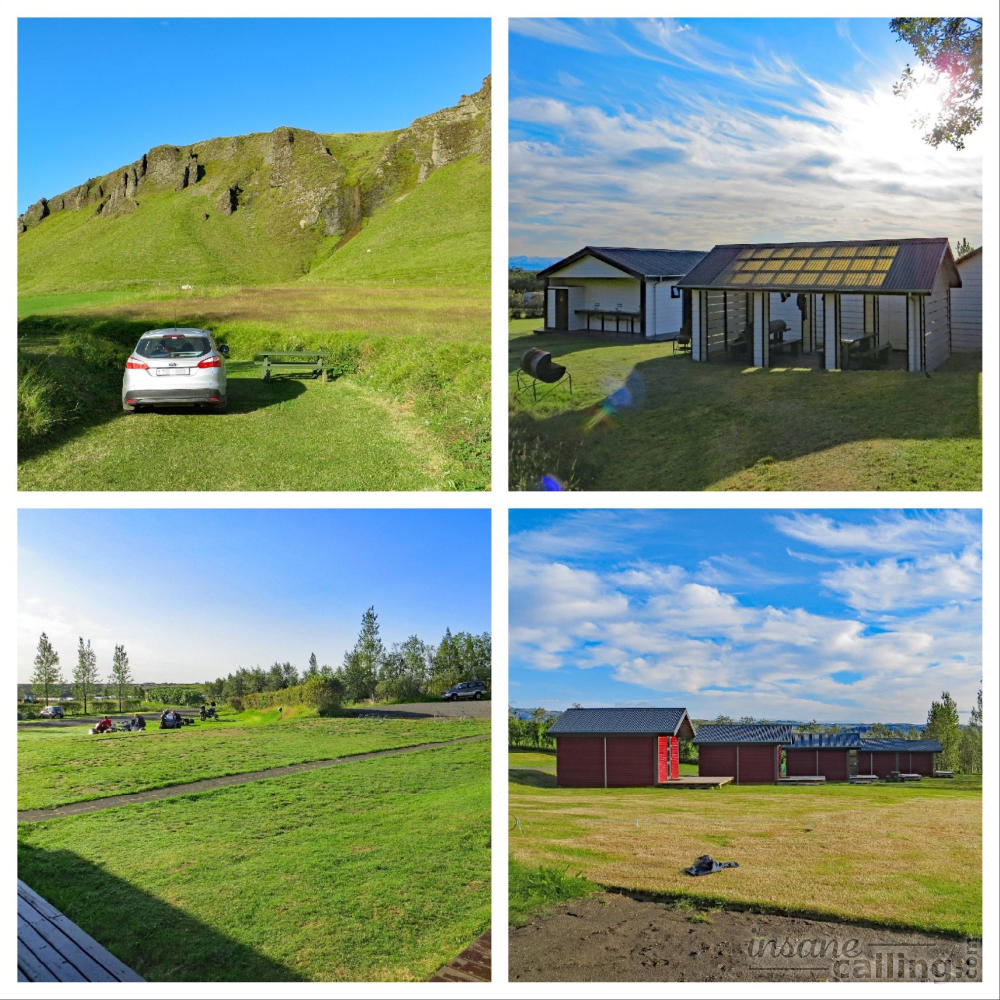 Night 13: Hamragarðar campsite near Seljalandsfoss
We had booked a place in Hvolsvöllur at the last minute. We tried to call the guesthouse to inform that we will reach slightly later (after reception closing time) but no one answered our calls. Luckily we had not pre-paid. So to avoid the risk of driving all the way in heavy rain only to reach a closed guesthouse, we ended up in Hamragarðar campsite. It has the Gljúfrafoss in its backyard. We slept with the sounds of wind and a waterfall as our lullabye. The hostel itself had an unkept kitchen and expensive showers.
1100 ISK + 300 ISK/person/~2 minutes of hot water shower.
Night 14 and 15: Selfoss Apartments in Selfoss
We booked this two hours before arrival. It was almost the end of our trip and it was raining cats and dogs. So we took it as an excuse to splurge here. The apartments belong to the Selfoss hostel and are two blocks away from the hostel. We had our own studio apartment with our own bathroom and kitchen. Heavenly ! Very centrally located. The bakery just opposite the Selfoss hostel doesn't disappoint either.
15000 ISK/apartment/night (We got a reduced price for the first night because the room we had booked was unavailable when we arrived).
Night 16: Fit Guesthouse near Keflavík Airport
We had a early morning flight and we just needed a place for a couple of hours in the night near the airport. The Guesthouse is about 6 km from the airport. It is in a dinghy, industrial area and not easy to find. The rooms are tiny and terribly lit. Linens, blankets, pillows are stored in a cupboard. You assemble them yourself. There is an hourly bus to the airport but the earliest bus at 5.08am comes sometimes and sometimes it doesn't. So if you do not have a rental car, you may need a taxi to the airport during the wee hours.
We did think of sleeping in the Keflavik airport to save costs. But luckily we didn't. It is explicitly prohibited to sleep/camp/cook in the building and airport grounds.
47 EUR/2 persons/night
Find out more about Iceland: